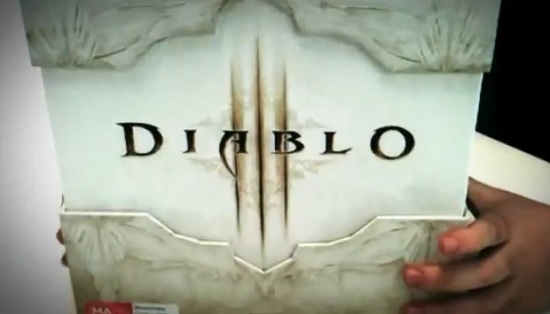 So I won't be getting a Diablo III Collectors Edition. This isn't due to a lack off effort or planning on my part either. Here is the sad story of how I won't be enjoying Diablo III tonight.
Back in February I decided to preorder a Collectors Edition from GameStop.com. I had the money and really wanted the extras in the package. Ok, to be honest I was slightly obsessed about getting the Diablo skull, take that how you will. I placed my order and took ease in the fact that I wouldn't have to worry about getting a copy anymore.
Fast forward to last Thursday, May 10th. Around noon I received a mail stating my order had been canceled. I called their customer service line to figure out why my order was canceled as I have plenty of money in my bank account and I hadn't canceled the order myself, let alone less than a week before the game was released. After about a hour of being on hold and dealing with a representative whom couldn't tell me anything other than, "Your order had been canceled, sorry about your luck.", I talked to a manager who informed me that GameStop was not receiving enough copies to fill their orders. I was told that they were trying to get more copies but they were not hopeful. Needless to say I was not pleased not only for my order being canceled but it being less than a week before release so my hopes of actually getting a copy elsewhere was next to impossible. Add to this the fact that GameStop would do nothing to ease the heavy burden not placed on me.
I went around to various retailers locally to see if I could get a copy and they had all sold out themselves.  I had resigned myself to trying to get a copy waiting at a retailer at midnight on the 15th. Later that night I saw that Walmart.com had opened up their preorders and I luckily scored another copy from them. I was saddened to see it would not come until the 22nd at earliest but I was just happy to get a copy.
Around 8:00 PM tonight I received a email from Walmart.com stating that my order had been canceled due to them not getting enough copies. Needless to say I was livid. To add further insult to injury they had already charged my card for the game and I would not be receiving a refund for 10 days. So not only did they take my money and not give me my game, I don't have the money now to try and get a copy elsewhere tonight.
I am pretty distraught over the entire ordeal. I have been crying a bit. It might be silly for a grown man to cry about not getting a video game but the Diablo series has meant a lot to me over the years. Also you add the fact that I did everything in my power to get a copy and I am still sitting here tonight without a copy and no way to get a copy at all.
So in closing Dear GameStop and Walmart: You ruined what was supposed to be a enjoyable experience for me. Thank you for screwing over not only me but probably thousands of other gamers who are stuck in the same situation tonight. I hope we all band together and sue your asses over it like I hope the Aussies do to GAME. Needless to say I will NEVER shop at either of your businesses anymore. I will take my dollars to establishments that don't take advantage of their customers.
PS: FUCK YOU!